Newsletter
July 2023 Volume 7
A message from the 2023 Club Captains
Sinead Ivory & Ciaran Byrne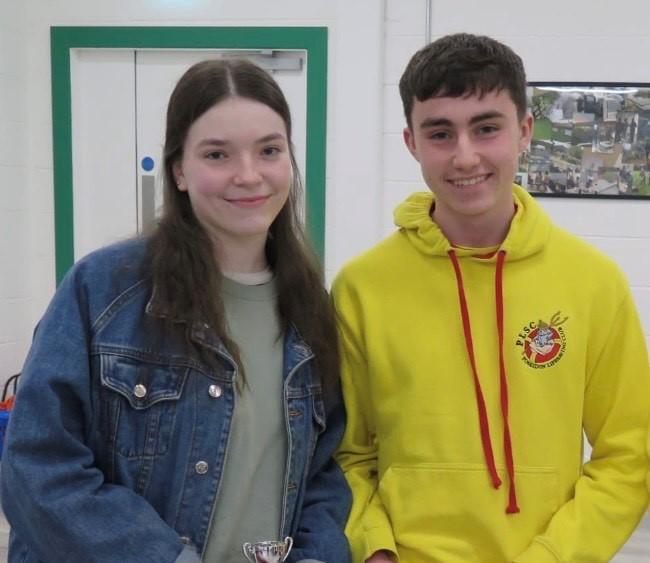 Hi everybody! 
Hello everyone and welcome back to our newsletter. Here in Poseidon we have had a busy couple of months, filled with competitions, excitement and activities.
Back in February, we had our Poseidon trip to Bray Bowl. We played bowling, had pizza and we had some team bonding. It was a great day all and all.
Later on in the month we had the Irish Schools Lifesaving 2023 competi-tion. The club journeyed to Belvedere College in Dublin where we competed against rival clubs. It was the first competition for many of our members and we had great success, winning medals across all age categories. We would like to give a special congratulations to Ruth O'Reilly, Anna McGloin, Isaac Devlin, Amelie O'Halloran and Bailey Crean who all placed 1st overall in their categories.
In March, seven of our members represented our club in the Speeds 2023 competition in Liverpool. They all did a fantastic job and we couldn't be prouder. As well in March, our oldest club member, Ciara Kelly, bid us a farewell and moved to Australia. She has been in the club since it started in 2010, and the club will not be the same without her. She did many things for the club, from coaching younger members to even designing the club crest! We would like to wish her the best of luck in her new adventure. She has kindly written a goodbye message which you can read below. She has also started a blog, in which she is writing about her time in Australia and the first install-ment can be found on the website.
Finally in May, we competed in the Branch Lifesaving competition. We had eleven competitors, with four teams and three individuals competing. The events in this competition included a water based incident, a land base inci-dent, rope throw and swim and tow. It was a fantastic day and we came home with two trophies and many medals. Congratulations to Bailey Crean and Abby Cahill as well as Emily Crean and Anna McGloin who came first in their categories, coming home with the trophies. This is the first time Poseidon has ever come home with the junior girls trophy and the junior boys trophy which is a huge accomplishment for our club. It's also the first time a girl has ev-er made it on to the junior boys trophy, so another well done to Abby!
Over the next couple of months we have a few more competitions coming up. In September we will have our Mountbatten Sea competition, and we will also be competing in the Regionals competition in October.
As we head into the summer months we will be saying goodbye to the pool and hello to the sea. We are excited to get back to the wetsuits and the lovely cold water.
Until next time, Captains Sinéad and Ciarán.